Clyde Sprints Past Powerhouse Toledo Central Catholic
November 22, 2013
RC News Correspondent: Eric Kastner
Photography Credit: Evan Fry
BOWLING GREEN, OH – Heading into Friday night's contest in Bowling Green, it was thought that if Clyde had any shot, it would be because of the strength of their stout defense. A defense that surrendered just 6 points the week before in Bellevue. However, it was the offense on Friday evening that enabled them to get past their opponent, an air-apparent Toledo Central Catholic squad (42-41).
Clyde was clinging to a late (42-41) lead, due to a missed extra point by the Fighting Irish. With under a minute to play, Clyde was facing a 3rd and 12 backed up at their own two yard line, as an eager Deshone Kizer, watched from the sidelines hoping for one more shot.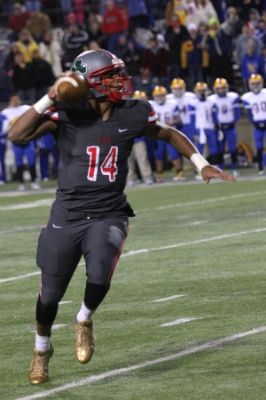 The Notre Dame product had fumbled inside the Clyde five yard line the series before that would have given the Fighting Irish a late lead, in which was a back and forth type of battle all night.
Tim Hoppe who had 364 passing yards on the night, misfired on a 3rd down pass, which looked to set-up a punting situation for the Fliers. However, that wasn't the case, as a late flag flew in and the Irish were penalized on a defensive holding call.
After a repeat of third down and this time only needing two yards to seal the victory, Clyde gave it to their workhorse Damian Coburn (13-50), who had an off night rushing, but picked up the biggest first down of the game, as he rushed for a three yard carry to seal it. And, essentially have the entire state of Ohio shocked with what would be the biggest upset to date in the entire state.
After Clyde got out to a (14-0) lead in the first quarter, thanks to touchdown passes of (12, 23) from Hoppe, Deshone Kizer led an outstanding comeback and overall performance under center for the Irish. Kizer, who was under duress all evening, stayed very calm and collect in a (211 pass, 119 rush) night, in which he positioned the troops in the red zone all evening, and helped senior tailback Paul Moses etch the scoreboard four times.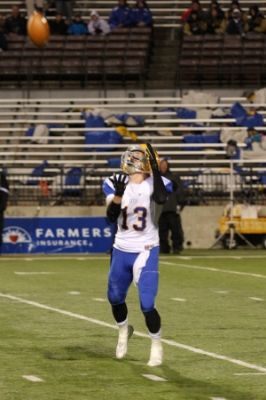 However, Hoppe from Clyde had the game of his life under center for the Fliers, and essentially took the game over when he had to as he threw for five touchdown passes, with his biggest one accounting for 74 yards to Derek Grey (8-237), for a lead that would never relinquish with 3:05 remaining.
Paul Moses was very effective on the night for the Irish as he carried the ball (27-135). His final touchdown came right before Hoppe's long touchdown pass to Grey, as he jaunted in from nine yards out with 3:27 left.
However, the lead wasn't safe as Patrick Schommer, who was (5-5) on extra points previous to this touchdown, missed on his sixth try, which ended up being a huge play in the game.
Clyde advances to the Division III state semifinals, where they will play Trotwood-Madison.