St. John's Scores 42 Unanswered in Win against Calvert
November 16, 2013
RC News Correspondent: Eric Kastner
Photography Credit: Evan Fry
Findlay, OH –
Delphos St. John's needed less than three quarters to put up 42 points against Tiffin Calvert Saturday evening. Calvert opened up the first 18 minutes with a (10-0) lead, but it was all DSJ the rest of the way, as touchdown machine Tyler Jettinghoff wore the Senecas down.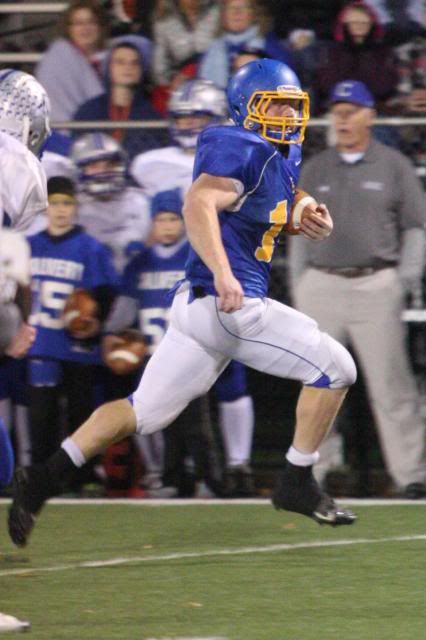 Calvert took just 12 seconds to get on the board against the Blue Jays Saturday evening when Austin Ball broke off an 80 yard run, stunning both Calvert and Delphos fans with how easy their first score was. Following the Smith XP, the Senecas led (7-0) with 11:48.
Following a couple of drives by each team, the Senecas began their 3rd possession from their own 30. After a crucial 3rd down pass interference call on the Blue Jays, Calvert was able to put a pretty good drive together that lasted 11 plays and saw (Jr) Michael Smith connect on a 38 yard field goal that put the Senecas up (10-0) with 8:57 left in the 2nd.
Everything was going right for the Senecas and they held St. John's to just 6 yards rushing in the first 15 minutes.
However, that would be the last time Calvert would sniff the scoreboard, and the deficit had awoken a monster in the St. John's backfield, (Sr) Tyler Jettinghoff.
Delphos simplified things following Calvert's double digit lead, when they decided to hand the rock off to Jettinghoff, their (6'3", 217 lb) workhorse 8 of the 9 plays on their third possession. Jettinghoff covered 49 yards and capped the drive with a 2 yard score (10-7) with 4:39 remaining in the 2nd.
Following Calvert's 2nd three-and-out, St. John's used all but two plays to snatch a lead they wouldn't relinquish, as Jettinghoff scored on a 65 yard jaunt to the end zone and the score would remain (14-10) as we headed into the break.
Jettinghoff wasted no time in getting things rolling again, when he took the opening kickoff 85 yards in 0:14 to give the Blue Jays a (21-10) lead to open the 3rd.
Jettinghoff would punch it in three more times (2, 36, & 9) for the Blue Jays and he finished the night with all 6 touchdowns for DSJ in their dominating performance over Tiffin Calvert (42-10) in Findlay. Delphos will take on Arlington next Saturday at 7:30 as the Red Devils roughed up Hicksville (54-14) tonight.