Long Hoping to Provide more Leadership at Quarterback as a Junior.
By: Eric Kastner
Tiffin, OH – Trying to compete year-in and year-out is hard enough, but when you're a small school that is low in enrollment, it makes things even harder when trying to get consistency from the top on down. However, don't tell Tiffin Calvert that, as they've maintained consistency its past two seasons, despite low male enrollment that saw them drop from a Division 6 football program to a Division 7 competitor this year. Enrollment hasn't hindered the Senecas success on the gridiron though, as they've made two straight postseason appearances, and on paper should make a third this coming season.
Under the supervision of head coach Todd Fox, Calvert has finally brought back the glory days of football in a city that had been overshadowed by Tiffin Columbian's success in the past decade. Tradition at Calvert has never been a question, as catholic education in town dates all the way back to the mid-nineteenth century (1847). However, a once proud football program had seen its better days up until Fox took over, as the Senecas saw 8 straight seasons fly by without a playoff appearance up until the 2011 season.
It so happens that in 2011, the future play-caller of the Senecas was roaming the halls on 152 Madison St, and his name was Tyler Long.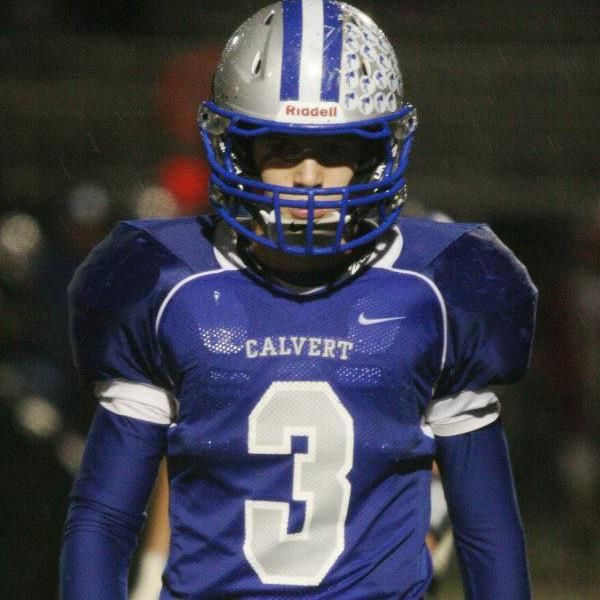 Little did Seneca Fans know that he would be a permanent fixture defensively as a freshman (52 tackles) and later lead the troops to their 2nd straight playoff appearance in his sophomore campaign as he took over the reins at quarterback with Nate Ritzler graduating. However, it should be known that Long didn't grow up in the Calvert Catholic School systems, and actually transferred from Findlay St. Michaels after his 8th grade season. Long, noted "a quality Catholic High School education and relatives graduating from the school", as an easy decision of choosing to continue on with his academics and athletics at Calvert.
Long admitted that it wasn't easy being a leader as a sophomore last year, even with the starting quarterback title, but he did say "what a difference a year makes when it comes to being more vocal and he described his teammates and himself as an extremely hard-working group, that's ready to take on the season". Long, let a lot of his playmaking abilities make-up for his youthfulness last year, as he threw for (1,144) and nearly matched that total on the ground by recording (1,098). Long was used as more of a scramble back last year as he ran the ball 177 times compared to throwing 167 times, but look for coach Fox to rely on his Junior quarterback to improve upon his seven touchdowns and six interceptions a little more here in 2013.
​Long has put year one at quarterback in his rear view mirror and has turned his focus to hitting the weights and meeting with a quarterbacks coach this past off-season. "I weigh around 185 and I am 6'2" now, said the upbeat Long''. My arm strength has improved from obviously a year of growth and with the help of some QB and lifting coaches. I feel I've grown a lot this past off-season". Long's arm strength was visibly stronger in Calvert's first scrimmage this past Tuesday, as they took on Colonel Crawford and South Central at Frost Kalnow Stadium in town.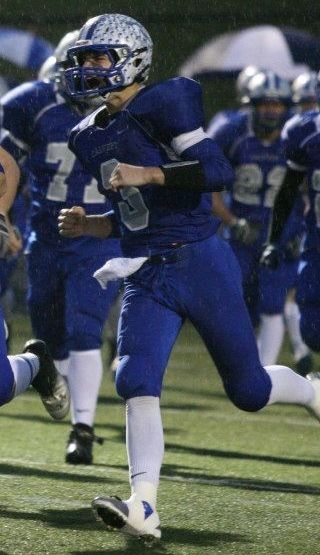 Along with Long's two years of varsity experience, he couldn't help but mention the experience that was coming back at the offensive line positions from last year's playoff team. "The entire O-Line is back which is great, especially since we're all on the same page". Not too often will you see a smaller school like Tiffin Calvert be able to see their entire offensive line return from a playoff team the year before. But, that will be the case this season as the Senecas return the big hefty's upfront that paved the way for just over 2,700 yards of rushing last season.
Calvert is looking to build upon their 2nd round playoff exits in each of the past two seasons. Two goals that have remained the same this year, is "working hard every single day to achieve the level of being a conference and state champion", Long said. He also mentioned that he is "willing to assist his team in anyway to get us to our goal of those championships". Calvert hopes that a veteran bunch of lineman, a speedy group of skilled guys and of course another year of Tyler Long under-center, will not only be enough to get them a Midland Athletic League conference title, but also a season much deeper into November.
You can also view Tyler Long's highlights online by visiting:
http://www.ncsasport...l1/b-tyler-long
Calvert 2013 Football
8/30​ A​ McComb (0-0)
9/7​ H​ St Paul (0-0)
9/13​ H​ Woodmore (0-0)
9/20​ H​ Lakota (0-0)
9/27​ A​ Seneca East (0-0)
10/5​ H​ Carey (0-0)
10/11​ A​ North Baltimore (0-0)
10/19​ A​ St Joseph Central Catholic (0-0)
10/25​ H​ Mohawk (0-0)
11/1​ A​ Hopewell-Loudon (0-0)
​